Inhaca Island Mozambique Holiday Accommodation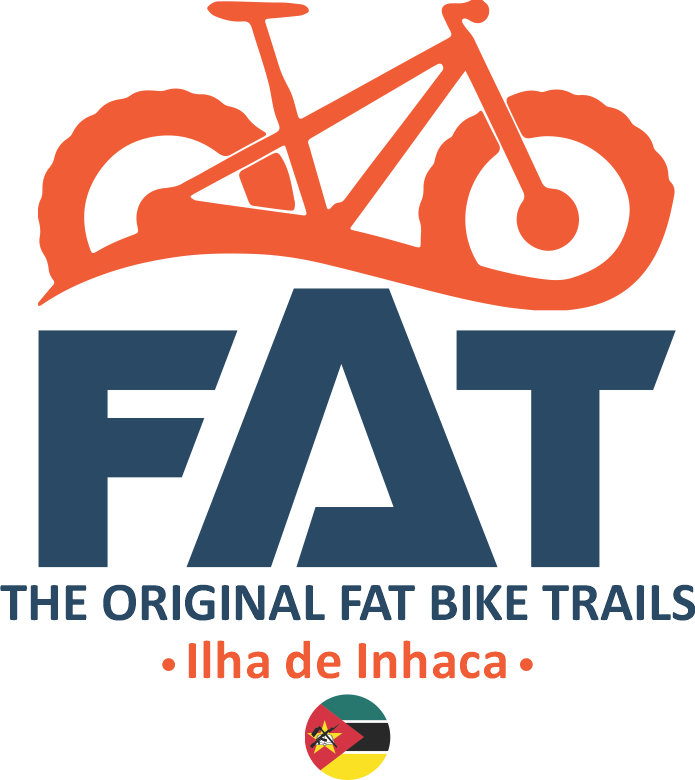 The Original Inhaca Fat Bike Trails

As avid mountain bike riders, Nahyeeni Lodge, in association with AOTUKA, are excited to introduce some truly awe inspiring, breathtaking fat bike trails around Inhaca, where one can fully appreciate the exalted beauty that our wonderful Island has to offer.

Cycle along pristine mangrove swamps, winding single tracks, jeep tracks and forest paths whilst exploring stunning bays, wetlands and the most beautiful beaches and views Inhaca has to offer .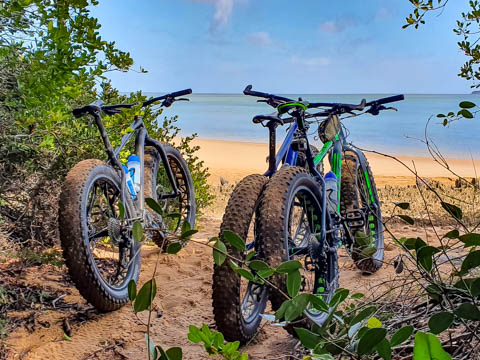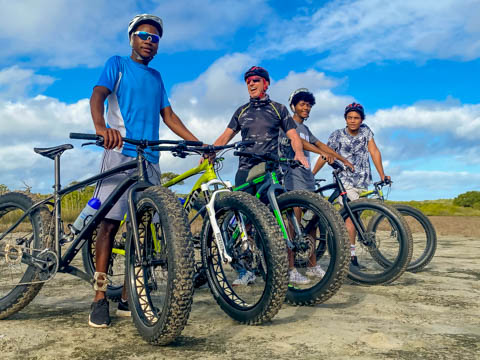 Fat bike touring is the most ecological way to explore Inhaca varied habitat as there is no noise or air pollution and the wider tire contact area means that the tracks are far shallower than even footprints. Our trails are all designed and follow pre-existing tracks, created over generations by the islanders, we merely maintain and upkeep those tracks to ensure safety and rider stability

Our fleet of fatbikes are well designed and of high quality. They are comfortable to ride and are regularly serviced by our well-trained mechanics.

Our tour guides are all from Inhaca and are therefore familiar with every aspect of Island living, culture and tradition and would be more than willing to share their local knowledge with you during your ride.

We have a ratio of 1 guide per maximum 6 guests – with a minimum of two riders (excluding couple tours).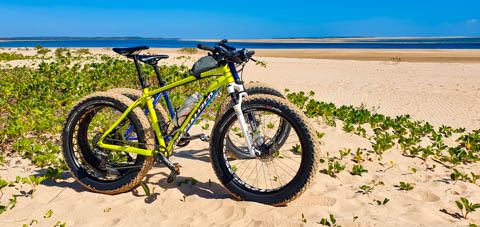 Each rider is pre-assessed prior to departure to ensure that the tour route selected is well within their ability in order to maximize both safety and especially enjoyment.

Our Trails

Included in all tours:
1x Guided Trail
Fatbike
Protective gear (Helmet)
Water (excluding food)
Excluded from all tours:
Items of a personal nature
Bike riding shoes
Riding shorts and top
Insurance
All Fat Bike Trails will depart from the Tourist Information Centre in Ribjene Village unless otherwise previously arranged.

Eezy Riders
(any level of rider with no previous experience required)

TOUR 1 - 500.00MTN
Beginners Fun Trail 4km (+/-30 minutes)
A gentle ride for the beginner with no experience – enjoy a leisurely cycle along wide jeep tracks and feel the power of the fat bike as it glides along the sand. Once you have enjoyed the serenity, fun and excitement of your first ride, we guarantee you will be back for more!

TOUR 2 - 800.00MTN
Xixuane 8km (+/-60 minutes)
Our highly recommend Xixuane trail is perfect for any rider and takes you along the edge of the beach and onto some great winding single tracks leading you past beautiful mangrove swamps where we follow fishermen footpaths to the wetlands teeming with bird life and back along jeep tracks where you can perhaps build up some speed for a little race home…

Even for the experienced rider, this is a really great route that offers a lot of fun and truly awesome single-track riding

TOUR 3 - 1 000.00MTN
Sunset Cruise 10km (+/-90 minutes) - Only when tides permit
An awe-inspiring way to complete your day marveling at the setting of the sun over the magnificent Indian ocean whilst cycling through our mangrove forests. Amble gently along and enjoy the stunning photographic opportunities in abundance.

Adventurous

(medium level of fitness and some biking experience)

TOUR 4 - 1 600.00MTN
Praia do Farol (Lighthouse beach) 20km (+/-2.5 hours)
Premium – Not to miss ride!
One of our premium routes that will take you past the wetlands and on through a labyrinth of stunning mangroves that never seem to end, following paths created over a multitude of years. Photographic opportunities abound at every turn with incredible views and spectacular beaches until you arrive at the lighthouse beach area to relax and indulge in the sheer beauty Inhaca has to offer, before returning home. (There are no hills or heavy sand tracks on this route but an extended time in the saddle). This is a not to miss ride!

TOUR 5 - 1 400.00MTN
Xixuane and Mangrove River Snorkel and Swim (snorkel gear included)
12km (+/-2 hours) Strictly only when tides permit. Engage with some great single-track riding through Xixuane before branching north and winding our way through the mangrove forests, passing through canopies following fishermen well-trodden paths until we arrive at the stunning mangrove river. We park our bikes and give you the opportunity to snorkel and swim, marveling at the intricate root systems which makes these forests attractive to fish and other organisms seeking food and shelter from predators. We then take a leisurely cycle back home.

Legend

(fair to good level of fitness with biking experience)

TOUR 6 - 1 600.00MTN
Praia da Tartaruga (Turtle Beach) 16km (+/-3 hours)
Turtle Beach is found on the eastern shores of Inhaca Island and is aptly named for the breeding turtles in season. Our journey will take us across the interior of our beautiful island along winding single tracks created by the local population, crossing small farmlands and alongside one of the main wetlands before ascending a couple of testing hills. As we descend through the local communities of Inguane, prepare yourself for the short, steep incline of Mauro Mountain. With multiple ascents and descents, we eventually climb up and over the ridge and into the beautifully preserved marine forestry reserve overseen by Inhaca Biology station. Reaching the top of the secondary sand dune you will be greeted by panoramic views of the eastern seaboard of the island and the magnificent Indian Ocean – we dare you to cycle down the steep incline, enjoy a stroll on the beach and a swim in the ocean before returning home through an amazing ride through the very interior of the wetlands before meeting up with the mangrove forests for a relaxing, breathtaking finale to your trail.

TOUR 7 - 1 000.00MTN
Saco (Inhaca tidal bay) 9km (+/-75 mins)
We head east and inland with single tracks winding in between local farm plots and the freshwater swamp areas. Taking on a couple of undulating hills, we ascend to a vantage point overlooking the beautiful Saco de Inhaca. From here we cruise downhill to meet up with the edge of the mangroves and take a gentle ride along the inland shores before once again ascending to meet up with the Island main stunning wetlands which we follow along its edge taking us back to toward Ribjene. After a short sharp climb up the Sting we cruise back home.

TOUR 8 - 1 400.00MTN
Xixuane and Saco 17km (+/-2 hours)
Here we combine the awesome Xixuane trail together with a trip to Saco, enabling the enthusiast to enjoy a complete variety of terrain and outstanding beauty.

TOUR 9 - 1 750.00MTN
Nhaquene 21km (+/-3 hours) - Premium ride!
This is an absolute must do ride for any avid cyclist – our path follows the same as Nhaquene Two Bay but incorporates some extra invigorating single-tracks and a ride through the local machambas (farmlands) where we meet up with the southern mangrove swamps. Photographic opportunities abound as we meander our way through absolute stunning lush vegetation, enjoying the spectacular views of Santa Maria, Ponta Torres and Machangulo peninsula. From here we head north through vestiges of forests before encountering the southern tip of Flamingo Bay mangroves. Enjoying the single tracks through the local community fishing village, we continue along the very edge of the Saco mangroves, eventually ascending to enjoy the magnificent view of the main interior wetlands. A fast and exciting single track along its edge takes us to the Sting and a final ascent close to home. For experienced riders this is an absolute must do.

Mythical

(excellent fitness with good biking experience)

TOUR 10 - 2 000.00MTN
Ponta Torres 26km (+/- 3 hours)
Our route to the famous Ponta Torres takes us on the same trajectory as Turtle Beach, however instead of heading toward the dunes of the coast we continue south along infrequently used jeep tracks moving deeper into the island forestry reserve taking us on a magical ride through its beating heart. It is here in these mystical parts that, over centuries, cultural rituals have been undertaken and the hallowed ground is steeped in tradition. Arriving at the southern point of the island, we descend by foot to the beach, taking some time to enjoy the breathtaking scenery. Our trip back home once again takes us through the forestry paths as we wind our way over rolling hills and through friendly, small local communities along the way, stopping for refreshments and reflections of the outstanding beauty that Inhaca offers.

TOUR 11 - 3 000.00MTN
Praia de Tartaruga and Ponta Torres 30km (+/- 4 hours)
Combining the incredible two tour routes, this is our longest ride and only for the very fit cycling enthusiast. The opportunity to partake in such a rewarding, breathtaking trail will remain embedded on the memory for years to come.

Couples Package Options

For those wishing to incorporate some fatbike cycling whilst also spending time with their loved ones/partners/friends on the beach we can thoroughly recommend the following packages:

COUPLES TOUR 1 - 3 200.00MTN per couple
(Minimum of 2 couples/4 pax)
Praia do Farol including beach and return by vehicle for rider plus 1 person
Enjoy the spectacular mangrove ride through to the lighthouse beach and meet up with your partner who will have departed by vehicle. Spend some luxurious, time exploring the beach with an additional trip up to the lighthouse for the breathtaking views this incredible Island has to offer and return home together in the comfort of the vehicle (minimum of 2 couples or 4 people per trip).

COUPLES TOUR 2 - 3 200.00MTN per couple
(Minimum of 2 couples/4 pax)
Praia da Tartaruga including beach and return by vehicle for rider plus 1 person. Fatbike your way to Turtle Beach whilst your partner relaxes with a leisurely drive to meet you at the base of the secondary dune. Witness the magnificent views of the Indian Ocean before recording your descent down the steep sandy bank – these are memories to cherish. Enjoy the beach together at your leisure before you both return home with the vehicle (minimum of 2 couples or 4 people per trip).

COUPLES TOUR 3 - 3 800.00MTN per couple
(Minimum of 2 couples/4 pax)
Ponta Torres including beach, snorkeling gear and return by vehicle for rider plus 1 person. Whilst your Partner enjoys a leisurely trip in the vehicle to Ponta Torres, we pedal our way along single tracks, relishing the testing uphills along with the exhilarating downhills past the wetlands, through farming communities and eventually reaching the mystical forestry reserve. Upon arrival at Ponta Torres, you can enjoy some time on the beach, snorkeling at your leisure before returning together in the vehicle back home.

We're Social

Send us a Message