Inhaca Island Mozambique Holiday Accommodation
Experience Of A Lifetime
Nahyeeni Lodge is rented in its entirety to guarantee complete secluded privacy and relaxation, thus enabling us to tailor make your holiday ensuring your requirements are not only met but surpassed.

Nick and Beverley have been living in Mozambique for more than 20 years and refurbished their holiday home on Inhaca Island to become a luxurious and exclusive Lodge. It is their aim to give personalized service ensuring that each and every client maximizes their enjoyment and leisure time without detracting from the seclusion and privacy that makes Nahyeeni Lodge so special. Particular attention has been placed on ensuring that every requirement has been catered for and they strive to make sure that the clients transition from home to home is met - with mass expanses of empty tropical beaches to explore, excursions galore and sunsets made in heaven, there will never be a dull moment! Mozambique is one of the top up and coming tourist destinations in the world, it is an experience of a lifetime so be sure not to miss out.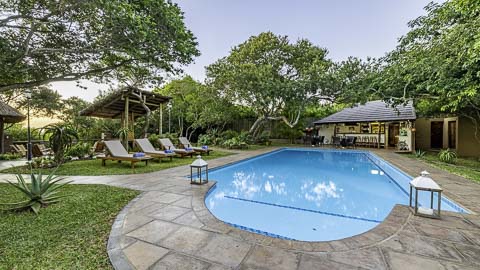 The Property

The Lodge boasts an impressive wooden deck directly in front of the main house, stretching out over the edge of the hill – here you can enjoy lazy lunches or relax on the plush sun loungers soaking up the sun whilst marvelling at unspoiled views of the magnificent Indian Ocean. An alternate and more private deck area leads you to either a hammock for your relaxation or affords incredible panoramic views and sunsets set amongst the tree tops teeming with birdlife that will remain imbedded on the memory for years to come.